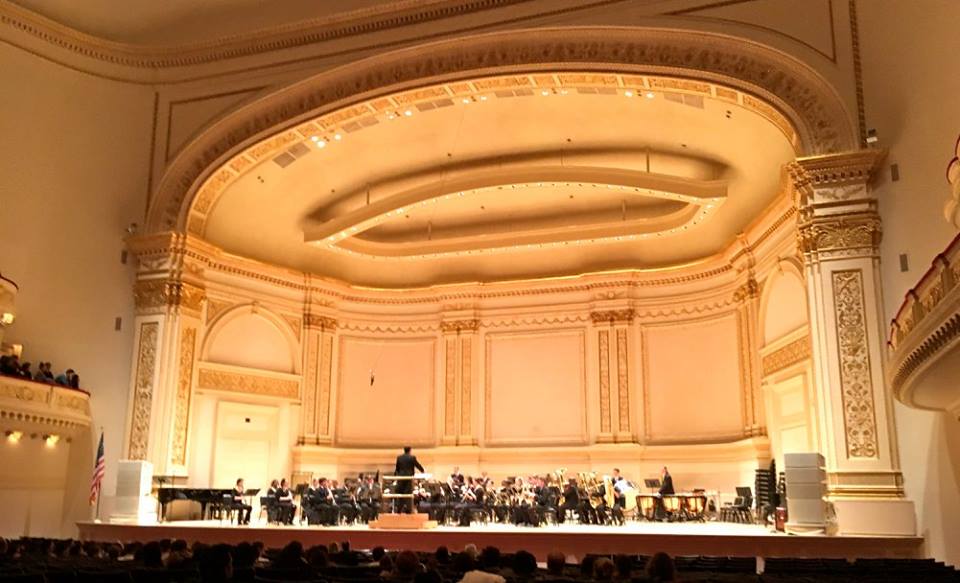 NEW YORK NEW YORK!
The KwaZulu-Natal Youth Wind Band's journey to the Big Apple -take two, part one.
Nolwazi Nkwanyana (#always practising)
17/03/17
Welcome to the land of opportunity, big dreams and big business.
During the fourteen hour flight to JFK, I don't think anyone could truly believe that we were
on our way to America -yet alone New York City. The first step out of the airport felt like we
were in a completely different universe, and the atmosphere changed to that of sheer
excitement. I could suddenly picture myself on the stage at Carnegie Hall performing with a
group of people I've come to recognise as some of the best young musicians in South Africa.
Besides the fact that we were in the city that never sleeps, most members of the band
couldn't wait to get some rest, but we first had to assign rooms and organise ourselves
before taking a break.
Some of us were merely afraid to go outside after experiencing the
freezing temperature first-hand. The first thing we did was run to the nearest MacDonald's
for dinner which had already been prepared for us. At the time, everyone was filled with a
mixture of fatigue and exhilaration, but most of all, the feeling of being in New York had
finally sunk in.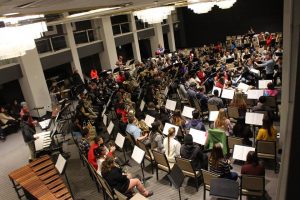 Our second day in New York (but first official day) basically kicked off with an exchange rehearsal with the Redondo Union High School Concert Band. We formed a massive wind band as we tackled some of each-other's pieces. There was a lot of teamwork involved and
adjusting to having stand-partners we had never met before, but one could barely notice as we laughed at our silly mistakes and celebrated our musical triumphs. The piece that we had the most fun playing was by far Pata Pata. Our American counterparts highly enjoyed the
colourful flavour of South African music and we ended up giving them a copy of the score and various parts. It was a truly beneficial experience and it by all means went out to show
that regardless of where you come from, it's always the percussion's fault.
The following day, Monday the 13th, was a highly eventful one. After breakfast, some of us
went to the South African Embassy to meet with the ambassador to discuss our stay in New
York. Meanwhile, the rest of the band got back to business. Sectionals were hosted in rooms
and everyone practised their parts as silently as possible. Later on in the day we had a
workshop with Dr. James McRoy who helped us to perfect our pieces by creating subtle but
significant changes in our presentation. After the workshop, we finally had the honour of
working with Andrew Smith who composed our new commission piece Conceit. Mr Smith
was very helpful in terms of directing the portrayal of the piece, but at the same time he
was very enthusiastic and was willing to work with any ideas that we had in mind. Our busy
day didn't end there. We were also scheduled to attend a dinner cruise with all participating
ensembles. When the evening began all the bands kept to themselves with nothing but
greetings to say to each other, but as the night progressed and the music got louder,
everyone was tempted to get onto the dance-floor.
There were dance crazes and crowd favourites that got even the chaperones to join the floor. My favourite moment was when the DJ played Africa and everyone started singing their instrumental parts. The cruise was a
lot of fun and I'm sure everyone made at least a friend or two.
Carnegie!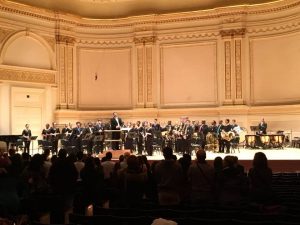 The KwaZulu-Natal Youth Wind Band's journey to the Big Apple -take two, part two.
Have you ever been excited to a point that you end up seeming a bit blasé about it?
That was me. I woke up at four in the morning thinking up various possible outcomes for our
performance and all of them were good. After breakfast, we walked through heaps of snow in our concert attire to Carnegie hall but still managed to arrive looking good. We were escorted to our warm up room where we waited patiently to be called for our sound-check.
Walking onto the world-renowned stage felt like a dream come true and it really was.
The acoustics were unimaginable but at the same time highly terrifying because you could hear
everything. After the sound-check, we went out for lunch which almost served as a
distraction for the nerves, but as soon as that last drop of coffee disappeared, reality hit us
hard. We were an hour away from performing at the Carnegie Hall.
We got the chance to watch some of the other bands perform before our performance. This
was very beneficial because we could use their performances to establish what and what
not to do. When it was our time to perform, it's safe to say that any feeling of readiness left
the second we set foot on stage and was replaced by a slight anxiety. You can never be
completely prepared for such a moment, but you can use the bit of uncertainty you still have
left to create an exciting experience for yourself. What caught my attention wasn't the
audience or the adjudicators. It was the band on stage.
As the master of ceremonies officially introduced the band, I couldn't help but think of how far we'd come -how hard we had worked. It was then I realised that I couldn't afford to give any less than my absolute
best and that's exactly what we gave. I can't put into words how amazing it was to play with
my fellow musicians on such an incredible platform.
There were moments in every piece that felt like we were in a completely different universe of illusion and magnificence. What impressed me the most was the level of liveliness and teamwork that was showcased on
stage. Everyone gave it their all and that is nothing but the best!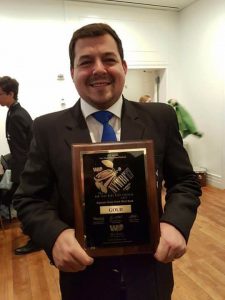 We earned ourselves a gold certificate and a happy conductor.
What more can we possibly ask for? We set out to prove that we are the best and that is
nothing but the truth. New York was one of our biggest achievements yet and I know we still
have more in store. It looks like 2017 will be a spectacular year and I can't wait to see what's
waiting for us.
A few other things worth mentioning (about the snow):
• Freezing snow mixed with wind makes perfect dodge-balls, so you might want to walk
in the same direction that the wind is blowing in to avoid any face injuries.
• Snow and Durbanites (people who come from Durban) make a commendable
combination. One of our percussionists, Chayce Tyne, decided to bring his beach
habits to Frozenland. He displayed one of the best theatrical productions I've ever
seen while dancing and gliding on a heap of snow…in his underwear! What would we
be without our wonderful Chayce. (I hope he got his five dollars).
• Snow is very cold, so to all the musicians out there: KEEP YOUR INSTRUMENTS
WARM!
Don't forget to follow the band on:
@kznywb on Twitter
@kznywb on Instagram
KZN Youth Wind Band on Facebook -sill @kznywb